Social Programme
Welcome Cocktail
Miramar Palace - San Sebastian
No transportation arranged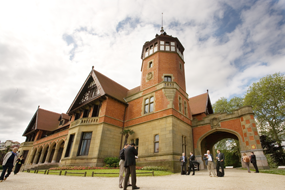 The Welcome Cocktail will take place on Sunday, September 2, at 8pm. at Miramar Palace in San Sebastian.

At the end of the 19th century, the regent Queen María Cristina ordered to build this palace in order to accommodate the Court during the summer. The location of the royal palace could not be better: on the hillock ending the El Loro pick, which separates La Concha and Ondarreta beaches and offering splendid views over the bay and the city.
Map here.
---
Conference Dinner
Petriegi Cider House*
Transportation from official hotels at 20:30h.


The dinner will be held on Wednesday, September 5 , at a cider house or "sagardotegi" in Basque - an establishment in the countryside where the different ciders of the year are tasted from the enormous barrels or "kupelas". The traditional menu is composed by fish and meat and a typical dessert.
Buses will depart from Kursaal Centre.
Vegetarians please contact the Secretariat for an alternative menu.

* Address: Petritegi bidea. Astigarraga (5Km. from San Sebastian)
---
Excursion of the Conference
Guggenheim Museum and Basque Coast
Transportation from Kursaal at 13:30h.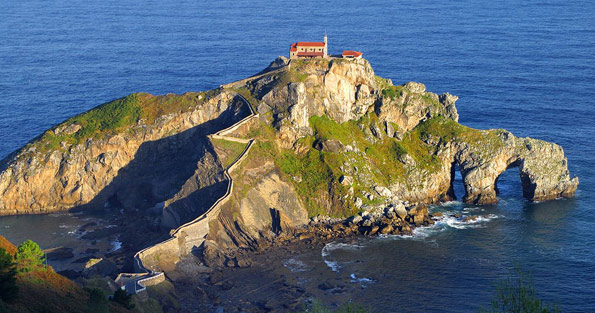 The excursion is scheduled to start after the morning lectures on Wednesday, September 5
A bus will lead us to Bilbao, to visit the Guggenheim Museum, masterpiece of Frank O. Gehry and the symbol of the regeneration of the city.
The second stop will be the chapel of San Juan de Gaztelugatxe, one of the most beautiful landscapes of the Basque coastline. Its surroundings were declared protected biotope.
---
Companions' Programme
Donostia - San Sebastian

Guided visit of the city with a professional English-speakin guide: the Romantic Area, the Boulevard, the Town Hall and the gardens of Alberdi Eder, the seafront of the shell-shaped La Concha bay and the beach of Ondarreta, all along until the sculpture of Eduardo Chillida, The Comb of the Wind.

From the top of Igeldo Mountain, we will admire the breathtaking views over the city and the charm of the funfair of the beginning of the XX century.

Lunch around the Old Part to taste some pintxos. This lively part of San Sebastian, full of little bars offering its speciality to everyone wanting to take part in this funny gastronomic experience.

Price per person: 85,00€ + VAT

Hondarribia & Basque-French Coastline

We will cross the Spanish border to get Biarritz (France), famous seaside resort with the Hotel du Palais, formerly summer residence of Napoleon III.

After that, visit of St. Jean de Luz, city of a large tourist tradition with a wide pedestrian zone where we would go shopping. Guided visit of the Château d'Urtubie, fortified castle built in the XIVth century.

Visit of Hondarribia, a picturesque fishermen's village whose old quarter is declared National Monument. Lunch at a typical restaurant and return trip to San Sebastian.

Price per person: 125,00€ + VAT

Excursions will depart with a minimum of 10 people. If you are interested in joining any of them, please contact the Secretariat at info@nfo12.com
---